Welcome to my page on finding the best embroidery machine for your sewing projects!
If you're an artistic and creative soul, embroidery and monogramming can be an excellent way to express yourself, but of course, you need a great machine to guide your work. You'll be amazed at the things that a top quality embroidery machine can do.
In this guide, I combine my own embroidery machine reviews with essential information on how to choose the perfect embroidery machine for your unique needs. I even include some information for using an embroidery machine, which you'll find directly below.
Our Top 10 Embroidery Machines Comparison Chart
Using The Embroidery Machine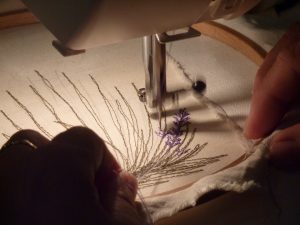 Whether your goal is to embroider creative scrolls, flowers and other accents or to monogram letters, initials and words, an embroidery machine is essential. But using one may not come naturally.
Let's see what the basics are for using one of these magnificent machines!
How Do You Use an Embroidery Machine?
Knowing how to use a basic sewing machine is a great start when it comes to mastering an embroidery machine. And if you don't want to have to learn too many new techniques and functions, you might consider buying an embroidery machine that is actually the same brand as the sewing machine that you own. This will help.
Each embroidery machine is different, so naturally, using them will take some practice. Luckily, they all come with instructional guides.
Basically, however, embroidery machines operate just like sewing machines but they stay in one area of your work instead of creating long lines and seams. And importantly, you don't guide the fabric.
Embroidery machines have preprogrammed designs and fonts in them. You simply pick one, choose the place that you want the monogram or embroidery to go, center it in your hoop and let your machine go to work.
How To Choose a Good Embroidery Machine
Choosing and purchasing an embroidery sewing machine is an important decision that warrants significant time and consideration. The following is a list of the factors that you should think about before making your final decision.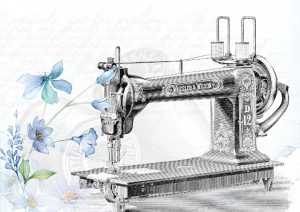 Factors To Consider:
What are you going to use this machine for? Home embroidery machines are rather different than industrial models.
Large, industrial embroidery machines can cost a pretty penny. You'll need to spend a significant amount on an embroidery machine no matter what, but keep a budget.
Check out different attachments, such as quilting accessories and extra presser feet that may be available for your machine.
If you plan on embroidering large designs, you'll need large hoops. Check out your hoop size options.
Built-in Embroidery Designs Vs. Access to Additional Designs
You likely want a wealth of stitch designs, which means that you should have built-in designs to start with but capabilities to get more through the use of an embroidery card or a USB key.
The throat width is the measurement of space from your needle to the base of the machine. The wider the width, the easier it is to maneuver your work.
Lastly, does the brand name for your machine guarantee their product with a significant warranty? It's always good to have at least a one or two year warranty on your machine.
What is The Most Recommended Embroidery Machine?
If you're in a rush and just want to know the top rated embroidery machine period, this is the section that you want to read!
Best Embroidery Machine for Beginners and Home Business
Hands down, my choice for the best embroidery machine for home use and business is the Brother SE400 Combination machine. Not only is this the best affordable embroidery machine, but it also consistently rates high in embroidery sewing machine reviews.
Overview of the Brother SE400 Combination
This embroidery machine allows you to embroider, monogram, quilt and of course, do any kind of basic sewing.
In terms of overall function, you have a solid 10.9 pound weight on this model, and the dimensions are 20.3 x 15 x 15.2 inches. The color is white with an easy to read, backlit LCD display. The display is a touchscreen, and it works fantastically.
Inside, the machine comes with 67 special sewing stitches that you can choose from. 70 embroidery designs are also built in, and you have 5 fonts for monogram lettering as well.
Aside from the built-in designs, you can attain thousands more fonts and designs by using the computer connectivity of the machine and loading new designs from iBroidery.com or other design sites. You can pay per additional design, and all designs are exclusive to Brother customers and sold at affordable prices. Updates can also be downloaded when they become available from Brother.
Because this is arguably the best sewing and embroidery machine for beginners, this machine doesn't have extended bells and whistles. If it did, I certainly wouldn't recommend it as the best starter embroidery machine because it would simply be too complicated.
But the Brother SE400 Combination does have a few special features that I'd like to mention.
One-touch automatic thread cutter
Free arm
Automatic needle threader
Bright light in the workspace
4 x 4-inch embroidery hoop area
Easy bobbin winding
Drop-in, quick-set bobbin system setup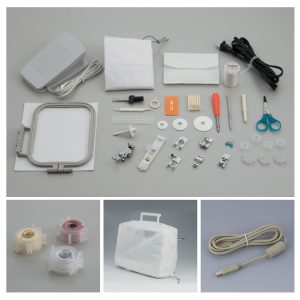 Items included with the Brother SE400 Combination
4 x 4-inch embroidery hoop
English and Spanish operator's manual
Softcover
Embroidery arm
Accessory compartment
USB cable
Power cord
Bobbin thread for embroidery
Buttonhole foot
Button fitting foot
Blind stitch foot
Embroidery foot
Monogramming foot
Overcasting foot
Zipper foot
Accessory bag
3 Spool caps
Seam ripper
Cleaning brush
2 Screwdrivers
3 Bobbins
Needle set
Touch pen
25 year limited warranty from Brother
Embroidery Machine Brands
Brother
Brother was founded in 1908 in Japan. Their embroidery machines reviews are consistently good.
I particularly like Brother machines for beginners to the art of embroidery and monogramming. They also consistently offer the best price for performance, meaning that you truly get your money's worth with their products.
Janome
Janome was founded in 1921 in Japan. The company focuses on all types of sewing machines, and they were the first company to create machines that included computerized components.
Janome embroidery machine reviews are quite positive just like those for Brother, but they tend to have more complicated machines, which means that they aren't as good for beginners.
Singer
It's hard to get through a sewing review without mention of the name Singer. This is one of the most well-known companies in the world of sewing.
Singer was founded in New York City in 1851. Before Singer came along, all sewing machines were mechanical or manual, which meant that they had to be operated by foot pedals or hand wheels. Singer invented electric sewing machines, and the world has never been the same since.
Top Rated Best Embroidery Machines Reviews
If you're looking for the best sewing machine with embroidery, you've come to the right place. Here are the top 6 picks.
Best Embroidery Machine for Monogramming
Brother PE770 5×7 inch Embroidery-only machine
For:
Top rated embroidery machine for monogramming
Highest rated embroidery machine from Brother
Against:
A few of the embroidery machine review entries mentioned that it can be difficult to find the correct bobbin thread for this machine as it only takes one kind.
Review:
The best brother embroidery machine is the Brother PE770. Consistently, Brother PE770 reviews are fantastic. It allows you to take your embroidery skills to the next level, and sewers love the 5" x 7" embroidery area, which is larger than most.
As the top embroidery machine overall, it's no surprise that I also own this machine! I especially love the easy to use USB port for adding in additional designs. This machine comes with tons of built-in fonts and designs as well, so it's a great place to start.
Features:
Large 5" x 7" embroidery hoop
Embroidery slot card and USB outlet
Auto thread trimmer
Design editing capabilities
Quick-set bobbin system
LCD screen display
Auto needle threader
Overall Value for the Money
This is a mid-range machine. It's more expensive than a regular sewing machine, but embroidery and monogramming functions cost extra naturally. With that being said, by far, the Brother PE770 is the best Brother embroidery machine, and overall, it's certainly the top rated embroidery machine for monogramming.
Necchi EC100 Embroidery Machine
For:
Best computerized sewing machine for embroidery overall
Super easy LCD touch screen that is simple to read and use
Against:
It is generally recommended to purchase sewing machines from the top three brands in the industry for compatibility with other products and accessories. These brands are Singer, Janome and Brother. But Necchi is certainly a reputable brand as well.
Review:
You won't see a lot of reviews for Necchi machines, but this one is special. It's the best computerized embroidery machine that I've used, and it's being sold at a completely reasonable price.
You get a ton of amazing designs to start out with this machine, including 73 designs that have been built-in. If you want to add more designs, it's easy. Just use the USB port.
Features:
5" x 5" embroidery area
73 built-in designs
Auto thread cutter
650 spm
Easy to uses screen
3 monogramming fonts
Multi-folder memory system for designs
Accessories kit included with bobbins, lint brush, spool holder, scissors and more
25-year warranty on mechanical parts
Overall Value for the Money
Overall, this is a great machine from Necchi. As you'll see online, the Necchi EC100 gets awesome embroidery machine reviews, and all of the people who I've talked to who have used it love it.
Janome Memory Craft 200E Embroidery Machine
For:
Top sewing machine for monogramming
Against:
A few of the embroidery machine reviews that I've read mentioned that even though this is a good machine for monogramming, it's not quite up to par with some of the other machines in terms of standard embroidery.
Review:
Here's another option for the best machine for monogramming! I love the Janome Memory Craft 200E. It's perfect for creating unique designs and specialty products. It's also heavy duty enough that you can easily use it in your home sewing business.
Features:
Backlit easy to use LCD display with touch screen
Built-in auto needle threader
Large embroidery hoop size of 5" x 5"
USB key port and PC link capabilities
73 embroidery designs that are built-in
3 monogramming fonts that are built-in
Auto de-clutch winder for bobbins
Extra-high presser foot for more industrial, heavy duty projects
Manual thread tension control
Overall Value for the Money
The Janome Memory Craft 200E is certainly sold at an extremely reasonable price. You also get a number of accessories in the bonus bundle that comes with this Janome product.
SINGER 7258 Embroidery Machine
For:
Best affordable embroidery machine
Best beginner embroidery machine
Against:
This is a beginner machine, and even though it's sold at a great price, it just won't be able to do the intense monogramming and embroidery that some of the more heavy duty machines can.
Review:
Whenever you write an embroidery machine review, it's important to take all factors into consideration. The SINGER 7258 embroidery machine is not a heavy duty machine that can handle any job. It's a beginner machine, so it's fairly simple. It only comes with a few built-in designs.
With that being said, if you're just a beginner and want to learn how to use a basic sewing machine and how to embroider and monogram, this is the perfect model. It has 100 stitches to choose from.
Features:
100 built-in stitches
7 fully automatic 1 step buttonholes
10 presser feet included with the machine
Programmable up and down needle
Speed controllable with stop and start button
Auto needle threader
Bright work space
Overall Value for the Money
As the best embroidery machine for beginners, the price on this model is perfectly reasonable. I would recommend it to any beginner.
Singer SE300 Legacy Embroidery Machine Embroidery Machine
For:
Top embroidery machine in terms of built-in designs, fonts and stitches available
Against:
A few of the reviews were happy with this product but claimed that it was mainly the hundreds of stitches and designs that you would be paying extra for. In other words, the machine basically works as well as the other standard level machines on this list.
Review:
The Singer SE300 Legacy Embroidery Machine is an absolutely wonderful machine. The LCD touch screen is perfect and super easy to use and read. I also love the extreme number of built-in embroidery designs and fonts that come with this model. You even get free designs that can be downloaded as well.
It might not be that this is the best embroidery machine for the money because it's more expensive, but it is a sturdy, well-made, heavy duty machine.
Features:
LCD touch screen display
200 built-in embroidery designs
6 alphabet options
Free downloadable software
An amazing 250 built-in stitches and hundreds of other stitch functions
Overall Value for the Money
As one of the best monogramming machine options out there, I highly recommend this model. But it's important to remember that this machine is an investment! It's pricier than any of the other models.
Brother PE540D 4×4 Embroidery Machine
con_color="#ffffff" rel="nofollow"]Click Here for Pricing, Pictures and Reviews on Amazon.com[/su_button]
For:
The best embroidery machine for home business
Affordable price for a great machine
Against:
A few embroidery machines reviews docked this machine a few plus points because some of the designs that are built-in to the model can be difficult to create. They often require numerous colors of thread and may end up sewing incorrectly if you're not extremely in tune to how the machine operates.
Review:
With the Brother PE540D 4×4, you have another of the best sewing embroidery machine options. Disney lovers will adore this machine because it has 35 special Disney embroidery design options that are built-in among the 70 built-in designs total.
There are also 5 monogramming fonts to choose from for creating personalized items. I recommend it as a great machine for your home business.
Features:
4" x 4" embroidery hoop
PC connectivity capabilities for importing designs
Auto needle threader
Backlit LCD display with touch screen
Bright work space
70 built-in decorative design options
Lots of fun Disney designs to choose from
Overall Value for the Money
This is a high-tech machine that I feel is the best embroidery machine for small business. It's also sold at a great price, so I highly recommend it if you're looking to start your own sewing business at home.
Using Pre-Made Embroidery Designs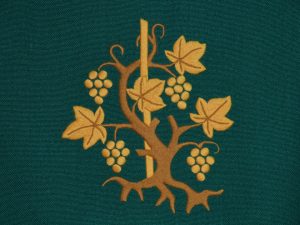 Embroidery and monogramming is not something that you can do without a preprogrammed design. In other words, it's not you who creates how a given embroidery design or monogram font works.
Instead, it's you who chooses what design that you want to use. This might be confusing for some, so let's break it down.
First, it's important to know that along with your embroidery machine, you'll already have a number of built-in embroidery designs and monogram fonts. You can use these at your leisure. They're included with your machine, so you don't have to pay extra for them.
But many people who are trying to use embroidery and monogramming to create their own home business will need and want more designs and fonts, and that's where pre-made embroidery designs from third-party websites come into play.
There are numerous websites online that sell their own pre-made embroidery designs and fonts for consumer purchase. You can visit their website and browse their design libraries to find exactly what you're looking for.
From there, you will purchase the designs that you want and download them to a USB key or digital embroidery card. Your USB key or digital embroidery card can then be inserted into your embroidery sewing machine.
The designs will be downloaded onto your machine and added to your own personal library. They can be used at your leisure.
To start looking for new designs or just to see what's available, here are three websites to check out. Each one has thousands of embroidery designs and monogram fonts to choose from.
The best embroidery sewing machine designs often come from this site. The site originated from the Embroidery Library to offer additional design types to consumers. Digital designs for machine embroidery are sold in 11 file formats at Urban Threads.
2. SmartNeedle
Here's another great site to try if you're looking for new and unique embroidery designs. You can get designs that are specific to your hoop sizes as well as applique designs. They even have free offers and discount designs from time to time.
Lastly, we have Dakota Collectibles. Here, you'll find free designs along with pay-per designs. They have thousands of options in their libraries, or you can even buy an entire library all at once!
Summary and Making Your Final Decision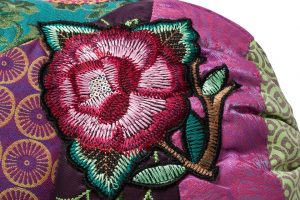 The best embroidery machine for you will be hard to come by if you don't put in the necessary time and effort.
Luckily, it's easy to find a great machine if you just do a little research and read at least a few embroidery machine reviews.
It's important to note here that this hobby is rather different than others in that it requires more supervision than actual work. In other words, you're simply monitoring the progress of your machine while it embroiders your design or monogram instead of actually moving the fabric around yourself as you do with regular sewing and quilting.
But this is all the more reason to make sure that you find the absolute best home embroidery machine possible. It's the machine that will be doing all of the work after all, and you want it to be a quality made model with amazing features and excellent capabilities!
I encourage you to look for your machine as soon as possible as well. Get started now in narrowing down your final choices because prices will only be going up. And especially if you hope to sell homemade goods, you should start soon and get in on the ground floor. Figure out what machine is for you, and purchase it as soon as you can.
Hopefully, the above information has been helpful to you in your search for the best embroidery machines. Whether you're hoping to start a new embroidery business at home or to continue learning this wonderful art form as a home hobby, I wish you the best of luck!