Whether you're looking for the best sewing machine for heavy duty materials and upholstery or a great beginner's sewing machine, this is the site that you've been looking for.
Investing in a brand new sewing machine is a serious decision. And it's essential that you do your homework so that you get the top machine for your particular purposes. I've gone ahead and done all of the research for you, including researching tons of products and writing my own sewing machine reviews for the best models.
This should give you everything that you need to get started! Please feel free to browse this page at your leisure, and I hope that you find what you're looking for!
Our Top Sewing Machines Comparison Chart
Types of Sewing Machines
If you're just starting out in the world of sewing, you probably want to know what the best sewing machines are.
But before we get into which machine you should purchase, let's talk about sewing machine types.
First off, if you're not sure whether you need an overlocker sewing machine, a computerized model, a mechanical machine or any other type, you're not alone! All of these terms can definitely be confusing.
Fortunately, we've got your back. Let's take a look at the different types of sewing machines below so that you can get a better idea of what's available and what's best for you.
Mechanical Sewing Machines
To operate an old-fashioned mechanical or manual sewing machine, you must move a large wheel with one hand and push the fabric with the other.
If you'd like to buy a mechanical sewing machine, it can be a great antique to own. But it's probably not the best machine if you're hoping to make practical creations with your sewing machine as it will not only be more difficult to operate, but it will also be more difficult to find replacement parts for and to get fixed if it breaks.
Electronic Sewing Machines
Electronic sewing machines are by far the most popular kinds of machines. Electronic models get their energy from being plugged into a wall outlet, and this energy runs the motor that is located in the body of the sewing machine.
The motor runs the needle, the feed dogs, the bobbin and other working parts of the machine.
It is your job to control the motor by using the foot pedal at your feet. Using this pedal, you can change the speed of your needle and feed dogs. The harder you push on the pedal, the faster the needle and feed dogs will go.
Computerized Sewing Machines
Computerized sewing machines are the wave of the future. These operate like electric machines, but they have many more high-tech features.
To control your computerized sewing machine, you use a computer. Most of the models have a touch pad screen.
On your computer, you can set the machine to use pre-preprogrammed stitches, or you can modify stitches to fit your personal needs. Your machine will memorize your stitch preferences and can even remember past work that you've done.
These models are always up to date as well because you can easily get new programs and updates onto your machine by downloading them when they become available.
Overlocker Machines
An overlocker sewing machine is usually used alongside your regular sewing machine. These machines are used to add a professional finish to your final project and can help avoid fraying and subsequent rips over time.
Oftentimes, creating a pro finish yourself takes a lot of cutting, adjusting and meticulous trimming. An overlocker machine does all of this at once and finishes off a garment in record time.
Top 10 Best Sewing Machines for 2018
Best Sewing Machines for Beginners
Brother CS6000i Sewing Machine
Top Rated Best Sewing Machine for Beginners
For:
LCD display allows easy stitch selection and adjustment
Rarely needs troubleshooting or fixing
Against:
A few sewing machine reviews mentioned that it takes a while to get the hang of the LCD display.
Review:
I named the Brother CS6000i as the most recommended sewing machine on this list for several key reasons. Naturally, Brother is one of the best sewing machine brands already. You'll notice their name several times in this top 10 guide.
But the Brother CS6000i is more than just a brand name. The machine comes with an easy to understand bilingual instruction guide, which shows you how easy it is to thread the machine and accomplish any sewing task. The automatic needle threader, super bright work area and oversized table are just a few of my favorite features.
I also appreciate the easy to read LCD display, which allows you to quickly and simply change sewing speed and stitch type. The built-in free arm for sleeve and cuff sewing is also especially handy.
Features:
LCD screen display
Extra large table
Auto needle threader
Super bright work area
Built-in free arm for sleeves and cuffs
Simple bobbin winder
Changeable sewing speed
Overall Value for the Money
This is an excellent sewing machine for any type of sewer. Whether you're a beginner or a skilled seamstress, this machine provides everything that you'd ever need, and it comes at a great price.
Laura Ashley Limited Edition CX155LA Sewing Machine
For:
Great for embroidery and monogramming
Numerous stitch types available
Against:
A few of the sewing machine reviews mentioned that the machine can be used to make upholstery, but it doesn't hold up well to extremely thick fabrics.
Review:
As the second machine on this list, the Laura Ashley Limited Edition CX155LA is naturally another of the top sewing machines on the market. It's a special edition by Laura Ashley, but it's also a Brother machine, so you have that big brand name backing the product. Overall, it certainly lives up to the name.
With this model, you can choose from 155 built-in stitches as well as built-in fonts for basic monogramming. Many machines don't have monogramming fonts included, so this is a fun and unique attribute. You also get an extra large table space, which is excellent for monogramming and embroidery.
I personally appreciate the online technical support that is available whenever you need help or have to troubleshoot a problem.
Features:
Back-lit LCD screen display
Drop-in top, jam-resistant, quick set bobbin
Changeable speed control plus easy start and stop button
Super bright work area
Advanced needle threading
Stitch selection at the touch of a button
Overall Value for the Money
If you're interested in monogramming along with quilting, making clothes and other basic sewing techniques, I would recommend this machine because most other models won't have the monogramming capabilities that you're looking for. Overall, the price is reasonable and it's another excellent Brother product.
Brother SE400 Combination Sewing Machine
For:
Excellent for large embroidery and quilting
Easy to read LCD display with computer connectivity
Against:
Reviews of sewing machines like this one mention that you should have a more advanced knowledge of sewing and embroidery to fully take advantage of all the features.
Review:
The Brother SE400 Combination is one of the best sewing machines on the market. I used to primarily use this machine and now use it occasionally for some speciality stitches.
One of my favorite features is the extra large work area and the smooth fabric feed. There are 7 point feed dogs on this machine, and these move the fabric so smoothly and easily that you can hardly feel any glitches or twitches.
I also like the embroidery area, and many sewers who enjoy embroidering love this as well. It's a 4" x 4" area that gives you added freedom and helps make embroidering large spaces much easier and frankly, more fun. You won't have any problems with the tension when embroidering either.
Features:
Computer connectivity capable
Download new updates when they become available
Automatic needle threader
Easy bobbin winder
Super bright work area
7-point feed dogs for smooth and simple fabric feeding
Large 4" x 4" area for embroidering
Drop-in, quick set bobbin system
Overall Value for the Money
Overall, I can't say enough good things about this sewing machine. For intermediate sewers who like the computer responsiveness of many of the newer machines, this is one of the best options. You can get new downloads and updates from Brother at the click of a button.
Best Sewing Machine Below $100
Brother XM2701 Sewing Machine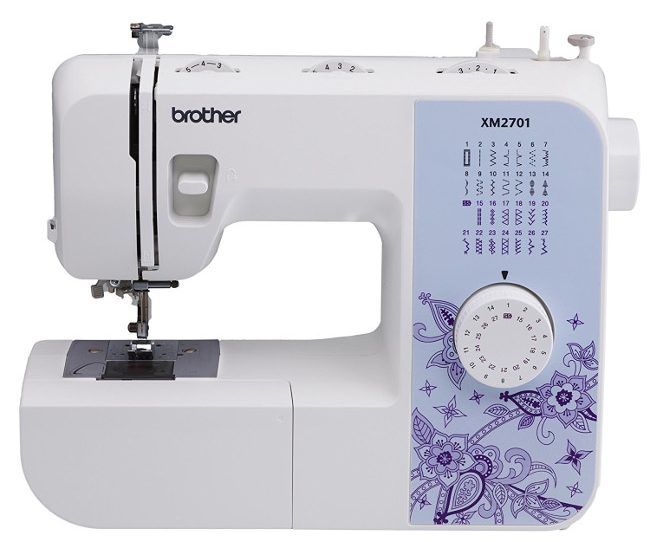 For:
Excellent for beginning sewers and quilters
Comes with easy to understand instructional DVD
Against:
This machine is not for advanced sewers and is better for novices and those who primarily want to do simple sewing.
Review:
The Brother XM2701 is a basic machine with easy to use functions and a super nice instructional DVD. On this model, I especially like the turning dial, the drop-in top, quick-set bobbin, the one-step, auto-size buttonholes and the simple threading system.
Again, I recommend this model for beginners, but there will still be a learning curve, and the instructional DVD will help. The lack of numerous stitches and extravagant features will make learning about the machine much easier as well.
One of the features that many sewers especially appreciate is the automatic threader. This feature threads the machine for you without forcing you to put the thread through small, tight spaces. In this way, the machine can be great for those with vision problems as well.
Features:
Instructional DVD included
Selecting your stitch is simple
One step buttonholes with auto sizing
Easy threading
Automatic needle threading
Simple bobbin winding
6 sewing feet
Drop-in top, jam-resistant bobbin
Overall Value for the Money
Reviews of sewing machines like this one are quick to note that complicated stitching and embroidery can't be done here. For this, you'll need a more advanced machine. Rest assured, however, that all basic functions can be easily accomplished on a machine like this, and that's why it's great for novices.
Best Sewing Machines Below $200
Janome 2212 Sewing Machine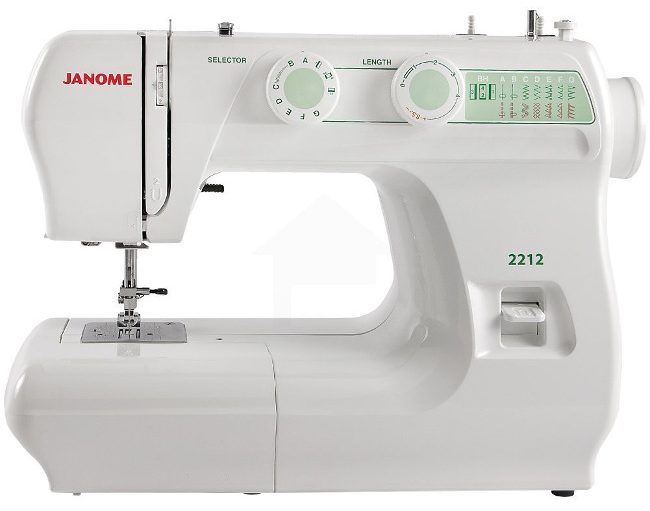 For:
Excellent for sewing thick fabrics or several layers at once as in quilting
Against:
This is the only Janome on the list. Janome machine use methods tend to be different than the better known Brother and Singer methods, so there may be a learning curve.
Review:
The Janome 2212 Sewing Machine is a great sewing machine for beginners to intermediate sewers. It's affordable and works well even on thick and heavy fabrics.
The only problem that I have with this machine is that it's not a Brother or a Singer, and for this reason, there's a bit of a learning curve. The best-rated sewing machines are often easy to use because you can take what you know from an earlier model and apply it to the newer, more advanced model. Because Janomes are not quite as popular as Brothers or Singers, this is a bit more difficult here.
With that being said, Janome makes high-quality sewing machines that can quickly be mastered and used to make excellent clothing and household creations. Furthermore, all Janome America products come with a 25-year limited warranty.
Features:
Front-loading free arm and bobbin
Reaches speeds up to 1000 spm
Easy dial pattern selector
Bright lighting
Buttonhole capabilities
Snap-on presser feet
Thread cutter is built in
Drop feed for quilting and free motion sewing
Overall Value for the Money
Overall, this dependable machine is well worth the moderate cost. Again, I recommend it for beginners and intermediate level sewers most of all. If you're more of an advanced seamstress, I might recommend a more advanced sewing machine model.
Brother XM1010 Sewing Machine
For:
Best inexpensive sewing machine
Against:
This is not an optimal sewing machine for those who hope to create thick curtains, extravagant costumes or heavy upholstery.
Review:
The Brother XM1010 is the best affordable sewing machine on this list and a great model for beginning sewers.
With this machine, you can sew button holes, buttons, zig zag stitches and hems, zippers and more. You can also do applique work, quilting, mending and blind hems with ease.
I have had several people ask me what type of sewing machine they should buy for their young daughters, nieces or granddaughters who may be interested in starting to sew. I have several models that I recommend, and this is usually one of them.
It teaches basic functions such as how to create nearly invisible blind hems and how to use the darn stitch to easily mend faults in clothing.
Features:
Simple stitch selector
Auto-sized button holes in just four steps
10 built-in stitches to choose from
Free arm for easy cuff and sleeve sewing
Easy threading
Zipper, button hole and zig zag feet included
Overall Value for the Money
This is the best sewing machine for the money, and it does everything that a simple sewing machine should plus a little bit more. If you want a new, high-quality sewing machine for basic functions or a starter machine for a young person or any beginner, this is an excellent choice.
Brother HC1850 Sewing Machine
For:
Comes with an amazing 130 stitch options for all types of sewing
Instructional DVD included
Excellent for quilters
Against:
This is a machine that is especially designed for advanced quilting. If you have no interest in quilting with your new sewing machine, I don't recommend this product.
Review:
The Brother HC1850 is a highly computerized sewing machine that is great for quilting and good for other basic types of sewing and embroidery.
Use it for heirloom sewing, clothing stitching, decorative stitching, buttonholes and basic monogramming. If you're new to monogramming but would like to try it out, this could be a great starter machine. The monogram foot offers basic maneuvers.
As far as other stitches go, you have a set of 130 comprehensive stitches at your disposal as well as 8 styles for auto-size, one-step buttonholes. All stitches are high quality and can be easily integrated into whatever project you are endeavoring to create.
Features:
Changeable sewing speed
Backlit LDC screen is extra large
Super bright area for working
Automatic needle threader
Detachable extra wide table that's great for quilting
Spring action quilting foot and 14 quilting stitch functions
Monogramming sewing foot included
Overall Value for the Money
For the quality of the machine that you're getting with this model, the price is well worth it. In fact, it's an inexpensive price overall.
I definitely recommend this product for quilters and especially for quilters who enjoy using a lot of different stitch types. In addition, if you prefer computerized sewing machines, this is a great model. It relies heavily on the computerized components.
Best Sewing Machines Above $200
Juki TL-2010Q Sewing Machine
For:
The perfect high quality, industrial sewing machine for upholstery, quilting and costume design
Against:
Most sewing machines reviews of this product mentioned the rather exorbitantly high price, but keep in mind that this is high tech, high-quality machine that can do just about any type of sewing.
Some people had problems winding bobbins on the machine, but this can be easily fixed.
Review:
The Juki TL-2010Q is one of the best sewing machines that I have ever worked with, but as you'll see, it's definitely not inexpensive. That is why it's number eight on this list instead of number one or two.
Even though the price is rather high, you definitely aren't missing any quality with this piece. In fact, you won't get a straighter stitch with any other type of machine, and it handles king size quilts and large costumes or dresses with ease.
This machine does not have many computerized parts, but truly, this shouldn't be a problem for most users.
Features:
Automatic needle threader
Extra large table
Exclusive small screwdriver
Even feed, quilting, compensating presser, hemming and zipper attaching feet included
Easily portable or can be used on machine quilting frames, in cabinets or on a table top
Overall Value for the Money
For serious sewers, quilters and seamstresses, the Juki TL-2010Q is one of the best selling sewing machine models in the Juki line. If you are serious about your craft or a professional seamstress, this is the model that you should buy. I have this model, and I use it every day!
Brother Designio Series DZ2400 Sewing Machines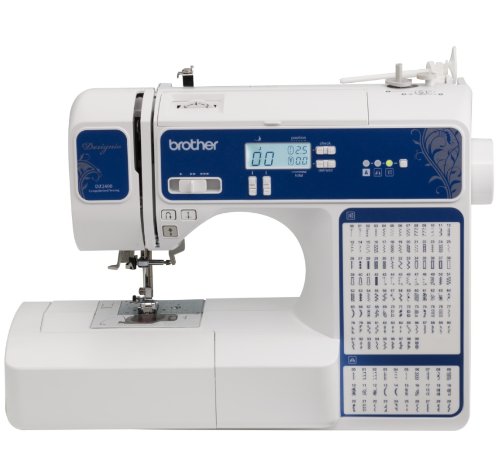 For:
A great machine for fashion design and costume making
Against:
A few of the sewing machine reviews mentioned that the tension is easy to get off with this machine.
Review:
The Brother Designio Series DZ2400 is an amazing Brother sewing machine model. This machine comes complete with an entire set of designer accessories that make sewing basically anything a breeze.
What I love most of all about this machine is that it's reliable. I've never had problems with it, nor have any of my sewing friends, and it's great for sewing large projects as well as small, detailed crafts. Threading the top bobbin and thread are just as easy as any other Brother machine, and you've also got the super nice, extra large and wide table to work with when you have big projects.
Features:
12 quilting and sewing feet included
Large, backlit LCD display screen
Large workspace for big projects
8 buttonhole styles to choose from
Super bright work area
Simple stitch selection
Quick-set, drop-in top, jam resistant bobbin
Overall Value for the Money
Even though this model is not as expensive as the Juki TL-2010Q, it's still one of the most expensive machines on the list. With that being said, I truly love this machine. It has an amazing 185 built-in stitches, and that in itself is enough to make me recommend it!
Best Portable Sewing Machine
SINGER 7258 Sewing Machine
For:
Can be used without the foot pedal and on auto pilot, unlike most other models
Against:
Some Singer sewing machine reviews mentioned that this model is not great for quilting like most other Singers.
Tension may cause issues
Review
Singer has been making sewing machines for decades, and they make some of the best products on the market. With that in mind, this is the best Singer sewing machine.
With the SINGER 7258, you have easy threading, skip-free sewing and excellent added features. 100 stitches are built into the machine. I love the darning plate, auxiliary spool pin, seam ripper and thread spool caps that are included.
Use this machine to create crafts, clothing, quilts and more. And when you need to brush up on your operation skills or troubleshoot a problem, the easy to understand introduction DVD is always there to help.
Features:
Large LED display screen
Easy threading
10 presser feet included
Drop-in top, easy to load bobbin system
Bobbin function comes with clear cover
Capable of sewing without foot pedal by using electronic auto pilot
Bright work area
Adjustable stitch width and length
Overall Value for the Money
Overall, you're getting an excellent product with this machine as you are with most all Singer machines. I did put it at the bottom of the list, however. This is because it's a fairly basic machine, and some users have had some issues with it.
Factors to Consider When Getting a Good Sewing Machine
Finding the top sewing machine will take some thought and searching, and it should. After all, buying a brand new machine will cost a significant amount of money, and it will be your main tool of the trade.
The following is a list of the questions that you should ask yourself on your search.
What do you need the machine for?
In other words, what kinds of stitches do you want to use? This is essential because if you never want to use embroidery stitches, for example, you'll be wasting money on a machine that includes these options.
On the other hand, if you want to learn embroidery but purchase a machine without these capabilities, you'll be out of luck.
Finding the best inexpensive sewing machine should be your goal. After all, why spend more than you need to? Set up a reasonable budget first so that you can narrow your range of options from the get-go.
If you're a beginner, this doesn't mean that you can only purchase beginner machines. On the other hand, you may find a more advanced machine extremely difficult to operate, and you might be paying for features that you'll never even use.
How easy is the machine to use?
Ease of use is important. I recommend reading user reviews to get a good sense of how easy any given model is to use.
Do you want a computerized machine?
The newest sewing machines are computer compatible, meaning they can be controlled via a touch screen or your desktop. Some sewers love these new features, but you can also get top notch machines that are simply electronic and have only manual adjustments.
What features do you want?
Sewing machines can have innumerable features. In general, pay attention to the following.
Speed control
Stitch width and length control
Single step button holes
Needle down capabilities
Free arm for cuffs and sleeves
Automatic needle threader
Bobbin winding
Adjustable pressure foot
Hard carrying case or dust cover
Added accessories
Does the machine come with a warranty?
You should be looking for a sewing machine that will last you years. Some people have one sewing machine for the duration of their entire lives.
In this way, spending a few extra dollars for a warranty can be smart. Most machines come with a warranty for electronic parts that lasts 1 or 2 years while the frame will be under warranty for up to 20 or 25 years.
What Is The Top Sewing Machine Brand
There's no best brand of sewing machine that always beats all others. But there are a number of the best sewing machine brands that you should know about when it comes to searching for a new machine.
In the opinion of almost all advanced sewers, these are the top 3 sewing machine brands to be aware of.
Janome
Janome is a Japanese company that was founded in 1921. This brand makes sewing machines for basic sewing, embroidery and quilting, but they also make industrial models for fiber arts, serging and teaching purposes.
What most sewers like about Janome is that they're always on the cutting edge. They were the first company to develop sewing machines with computerized components, and they were the first in the world of home sewing machine embroidery.
Several Janome products and reviews are listed in the top ten guide.
Brother Industries is a Japanese company that was founded in 1908. The brand makes sewing machines along with other industrial machines and tools. For example, you'll see Brother fax machines, computers, printers, knitting machines and typewriters.
Brother Industries is dedicated to high-quality products and amazing customer service. Check out our top ten guide above to find the best sewing machine to buy from Brother. I've included several models from this brand.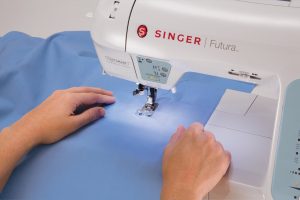 Finally, Singer is the oldest company on this list and is American. The Singer corporation was founded in New York City, New York in 1851.
Singer created the world's first zig-zag sewing machine as well as the first electronic sewing machines. Before Singer, sewing machines needed to be manually operated. Today, they lead the way in high-tech embroidery machines for home use.
See my own Singer sewing machine review sections in the guide above. I have recommended several models from this company.
Where to Start?
Beginning sewers are often overwhelmed. If this is you, don't panic!
Certainly, there are a lot of things to know, including how to find the best place to buy a sewing machine and how to find the best entry level sewing machine.
But most of the time, just jumping right in is the way to go. Find a sewing machine, pick a basic project to try, read the directions and worry about making mistakes! Mistakes are bound to happen as you're just starting out.
If you want to know what is the best sewing machine for beginners, just check out my guide for beginners, which includes essential basic sewing machine reviews. I also have a page on how to use a sewing machine if you're interested.
Old Fashioned Way?
Mechanical or manual sewing machines are the oldest type of sewing machine. Instead of being plugged into the wall for electrical energy, it is you who provides the energy by using a foot pedal or turning a large wheel on the end of the machine. As you move your foot or turn this hand wheel, the needle moves and sews your fabric. Simultaneously with your other hand, you guide the fabric past the needle.
These old fashioned machines were the first types of sewing machines, so they're more like vintage products today. Almost all people who sew today use electronic machines, so mechanical machines are rather a thing of the past. You may have one in your attic or basement, and you'll likely see them in museums and antique shops.
But keep in mind that the best quality sewing machines are not always electronic, and the old fashioned way may be appealing to some! If this interests you, you might consider giving the following sewing machine a try.
The Janome Treadle Powered Sewing Machine 712T is a mid-price sewing machine that uses old technology with a new spin.
No electrical power is needed to operate this machine. Instead, this sewing machine treadle powered. A treadle powered machine uses a foot pedal down by your feet that is connected to your sewing machine.
As you press the foot pedal and pump it up and down, the needle will move through your fabric. You must use your other hand to move your fabric past the needle as you sew.
This is the perfect machine for those who live off the grid or who don't like messing with electricity, cords and tension. Many sewers are bothered by the upsurge in computerized sewing machines, and this is the perfect alternative!
What Is The Best Place to Buy a Sewing Machine?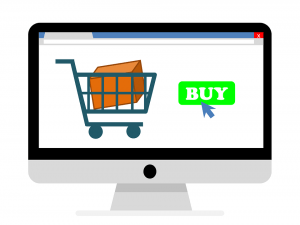 Those who review sewing machines regularly always recommend Amazon for shopping and buying. It's certainly important to put a lot of time and effort into choosing where you shop, but Amazon is consistently the best. Here are the reasons why.
Certainly all of the products that I recommend in this guide can be easily found on Amazon. They basically have everything!
Evidence shows that Amazon has the best prices on any given product almost 100 percent of the time.
Accurate and Detailed Customer Reviews
When you're on the fence about one or more products, the wonderful reviews on Amazon will almost always set you straight and give you the advice that you've been looking for.
Not all products on Amazon's website offer free shipping, but many of them do. Furthermore, large products like sewing machines will almost always ship for free if you order directly from Amazon.
If you aren't happy with the product that you order for whatever reason, Amazon has a great return policy that is super easy to work with.
Excellent Customer Service
If you end up needing more than just a refund or an exchange on your product, the customer service at Amazon is also top notch.
Accessories to Consider
Certain accessories can make the activity of sewing much simpler and more enjoyable! Check out these two essential accessories to get you started.

When you're a seamstress on the go, it's still important to have your sewing essentials with you. Naturally, traveling with your sewing machine at all times isn't possible! But that's where this compact sewing kit from sewing gear comes in.
It's super easy to use and carry and comes with everything, including numerous colors of thread, measuring tape, stainless steel scissors, straight pins, a thimble, needle threaders and a seam ripper.
When you are able to travel with your sewing machine, it's important to keep it safe and protected. Sewing machines are expensive items, and to serious sewers, they're extremely precious!
That's why many sewing professionals use a universal, hard sewing machine carrying case like this one from Brother. Even though most machines come with a dust cover, these do not offer adequate protection, especially when you're on the move.
This Brother hardcover and carrying case comes in two pieces. It fits all free-arm sewing machines and is easily lockable on both sides to provide safe protection.
Summary and Making Your Final Decision
I hope that this guide of sewing machine reviews and information has been helpful to you in your search for the best sewing machine. I enjoyed creating it! And it now allows me just to link people who ask me "What is the best sewing machine to buy?" to this page.
I truly believe that sewing is a wonderful hobby to have, and many people like myself have made it into a living as well. Regardless of whether you're making a simple pillow sham, a Halloween costume or an intricate quilt, having a top quality sewing machine is essential. Ask any seamstress!
In this way, it's important to research all of your options, look at pricing and sewing machine reviews and narrow down your search so that you can find exactly what you're looking for.
I've tried to do most of the hard work for you, and I hope that it's helped you in some way. The guides that I've taken then time to create are meant to be useful and helpful to both novice and expert seamstresses!
If you're still having a hard time narrowing your search, what I recommend doing is picking three of your top options and just ordering them from Amazon. Once they arrive, you'll be able to look them over, and you'll likely see immediately which option that you like best. Amazon will allow you to return any items that have been unused and have all of the parts and shipping materials still intact.
If you'd like to learn more about different types of sewing machines for beginners or advanced sewers, please feel free to check out my other guides.